Best Phones for the Deaf and Hearing Impaired 2023
1 January 2023 | Eugene
Hearing loss shouldn't get in the way of your contact with friends and family, and luckily the right phone can keep you connected. We've had our product experts at AmplifiedTelephones.co.uk break down some of the best amplified phones and accessories, making sure you pick the absolute best product for your life.
In this article, we'll show you:
Our Loudest Corded Phone
Easy-to-use amplified telephone with adjustable volume
Suitable for individuals with severe hearing loss
Adjustable receiver volume up to 60dB (32x a normal phone)
Large black buttons with high contrast numbers enable easy dialling
£78.02
+ FREE UK delivery
More Info
Available now
Why We Love It: The Amplipower 50 Amplified Telephone is nearly impossible to beat if you're looking for a loud phone that just works, complete with large buttons and simple controls. With ringing and handset volumes that are absolutely booming, you'll be able to hear this phone through any sort of background noise and even most types of severe hearing loss. Also available in black.
Looking for a similar phone with an answering machine? Try the Geemarc CL595 Amplified Phone with Answering Machine.
Our Loudest Cordless Phone
Exceptionally loud receiver and ringing volume
SOS button stores up to four emergency numbers
Adjustable receiver volume up to 50dB (16x a normal phone)
Hearing aid compatible for versatile use
£81.99
+ FREE UK delivery
More Info
Available now
Why We Love It: If you thought you couldn't get true extra-loud sound in a portable wireless handset, the Geemarc AmpliDECT 595 Amplified Cordless Telephone will fully dispel that notion. Fully equipped with all the features you'd want in a premium amplified phone, the AmpliDECt 595 lets you hear conversations loud and clear in any room of the house.
Looking for a version with multiple handsets? Try the AmpliDECT 595 with Two Extra Handsets. Up to four extra handsets can be connected.
Our Easiest-to-See Photo Button Phone
Loud receiver volume great for the hard of hearing
Ten photo dial buttons ideal for elderly users
Adjustable receiver volume of up to 30dB (4x a normal phone)
Hearing aid compatible for clearer sound
£68.13
+ FREE UK delivery
More Info
Available now
Why We Love It: If you need a phone to help elderly or disabled loved ones remember important numbers, the Geemarc AmpliDECT 295 Amplified Photo Phone with Answering Machine is the ideal solution. It features loud sound and ease of accessibility like any of our phones, and also lets you assign large memory keys with a helpful photo of the intended contact.
Looking for a corded alternative? Try the Amplicomms 40 Plus Big Button Phone with Photo Buttons.
Our Best Amplified Telephone with an Answering Machine
Big button amplified telephone for easy dialling
Ideal for those with hearing and memory difficulties
Adjustable receiver volume up to 50dB (16x a standard phone)
Includes SOS function for quick emergency response
£85.99
+ FREE UK delivery
More Info
Available now
Why We Love It: Keeping track of calls is important, especially for the elderly. The Geemarc CL595 Big Button Corded Phone with Answering Machine not only stores messages and past callers, it also features a large and bright screen to show all the information of each caller at a glance. It's a great all-round phone for accessibility, with photo buttons, an extra-loud handset and simple controls with big buttons.
Looking for a cordless phone with an answering machine? The Geemarc 595 Amplified Cordless Phone mentioned above is a great option.
Our Best Corded and Cordless Phone Combination Pack
Corded amplified telephone with a number blocker and additional handset
Ideal for those who value privacy or are hard of hearing
Adjustable receiver volume of up to 35dB (6x louder than a normal phone)
Includes voicemail with 60 minutes of recording time
£77.99
+ FREE UK delivery
More Info
Available now
Why We Love It: A great combo phone at an unbeatable price, the Amplicomms PowerTel 2880 Amplified Combo Phone with Answering Machine is a perfect option for those with moderate hearing loss. With a highly accessible base equipped with photo buttons and a wireless handset for use around the home, this pack is among our customers' favourites for call convenience.
Looking for a version with more handsets? Try the Amplicomms PowerTel 2883 Amplified Telephone Combo with Three Handsets.
Our Best Phone to Stay Prepared for Emergencies
Amplified set for those with hearing difficulties
Includes cordless handset and SOS pendant with volume control
Adjustable receiver volume up to 30dB (4x a normal phone)
Compatible with most hearing aids
£119.99
+ FREE UK delivery
More Info
Available now
Why We Love It: To provide peace of mind for elderly users, the Geemarc AmpliDECT 295 SOS PRO Amplified Cordless Telephone and Pendant includes a safety pendant that can be carried around and pressed at any time to instantly call a chosen emergency number. Loud and easy to use with big buttons and an answering machine, this phone is our favourite for keeping a user safe as they age.
Looking for a corded phone with a connected emergency call pendant? We recommend the Geemarc Serenities Amplified Telephone with Emergency Response Wristband.

Our Easiest and Loudest Mobile Phone
Extra-loud, 4G, clamshell mobile phone designed for ease of use
Ideal those who want a simplified phone with modern features
Clearly amplifies your calls up to 40dB (8x a regular phone)
Includes SOS, one-touch dialling and hearing aid compatibility
£112.99
+ FREE UK delivery
More Info
Available now
Why We Love It: Featuring most of the features you'd find in a highly accessible amplified home phone, the Geemarc CL8700 Amplified Clamshell Mobile Phone is much louder than a standard mobile, and is designed with big buttons and a red emergency call button on the back. Avoiding the pitfalls of a complex modern smartphone, this mobile simply works – and does it well.
Looking for an accessible amplified mobile with modern smartphone features? We recommend the Doro 8100 Smartphone for Seniors.
Our Best Amplified TV Listener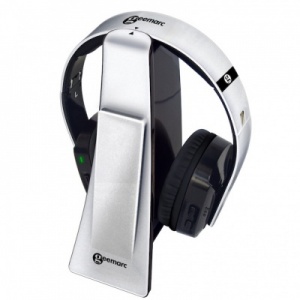 Wireless TV listener to provide you with amplified sound up to 125dB
Ideal for the hard of hearing or anyone who struggles to hear the TV
Provides eight hours of wireless listening on a single charge
Suitable for use with TVs and most other audio devices
£124.99
+ FREE UK delivery
More Info
Available now
Why We Love It: The perfect simple solution to let a single user listen to TV at an extra-loud volume without disturbing others in the room, the Geemarc 7400 OPTI Amplified Wireless TV Listener Headset for the Hard of Hearing can be connected easily to any TV, providing booming volume to one listener.
Looking for premium audio quality with the easiest connections possible? We recommend the Amplicomms TV3500 Amplified Wireless TV Listening System.
Why Choose an Amplified Phone?
Amplified phones aren't only loud, they make it as easy as possible for you to stay in touch with those you care about. They take the stress out of communication for the hearing impaired, elderly, and anyone else looking to make talking on the phone easier than ever. With an amplified telephone, you can:
Hear Your Loved Ones Clearly Again: With their extra-loud handsets, our amplified phones provide louder and clearer sound than ever before.
Never Miss a Call: Our phones feature super loud ringers to make sure you hear your phone from anywhere in the home.
Connect to Your Hearing Aid: Many of our phones feature the easiest hearing aid connections around, delivering perfect sound right into your ear.
Enjoy Hassle-Free Use: With big buttons and easy-to-use controls, our phones are great for the visually impaired and those tired of fiddling with controls.
Reconnect to Friends and Family
At AmplifiedTelephones.co.uk, we're committed to helping you stay connected, and we think these products can get you and your loved ones well on your way. If you find yourself becoming frustrated with quiet and unclear calls, an amplified phone or listening device could be just what you need.
If you haven't found what you're looking for in this article, please feel free to browse some of our most popular categories:
Have any questions, or something to add? Please feel free to leave us your thoughts in the comments section below!