2 February 2023 | Eugene

Are you looking for the Geemarc CL8500 Mobile Phone? It was a top choice for years, but it's now been replaced by the new and improved Geemarc CL8700 Mobile Phone.
23 January 2023 | Eugene

Suffering from hearing loss shouldn't mean that you're excluded from the smartphone world! At AmplifiedTelephones.co.uk, we're experts on all sorts of loud phones, so we've selected a couple of our favourites as our Best Smartphones for Impaired Hearing.
23 January 2023 | Eugene

Loud environments like factories and warehouses will often produce so much noise from workers and machinery that standard phones can't be heard. To avoid missing important calls, choose one of our Top 3 Amplified Phones for Noisy Environments 2020.
23 January 2023 | Eugene

Staying connected with loved ones is important during the Christmas season, but many phones are too quiet or complicated for the elderly and hard of hearing. Keep them connected with our Best Gifts for the Hard of Hearing Christmas.
15 January 2023 | Eugene

While the loudest phones are usually corded, there are plenty of extra-loud cordless options to let you hear your conversations with loud and clear sound in every room of the house! Learn more with our Best Cordless Amplified Telephones.
2 Comments
12 January 2023 |
Eugene

If you've started noticing your hearing isn't quite what it used to be, answering the phone can become a daunting task. To help you out, we've created a list of our Best Corded Amplified Phones for the Hearing Impaired.
10 January 2023 | Admin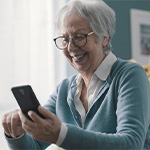 Finding the right mobile phone for an elderly loved one can be tricky, as you'll need to ensure that they will be able to use it when they need to. If you're hoping to find the perfect mobile phone for your senior relative, we've got you covered with this guide to the Best Mobile Phones for the Elderly.
4 January 2023 | Eugene

Mobile phones can often be too quiet to hear, and even a bit daunting to use. Explore Our Best Amplified Mobile Phones, designed for the hard of hearing, elderly or anyone who finds modern mobiles difficult to use.
1 January 2023 | Eugene

Hearing loss shouldn't get in the way of your contact with friends and family, and the right phone can keep you connected. To help you along, we've selected some of the Best Phones for the Deaf and Hearing Impaired.
18 November 2021 | Admin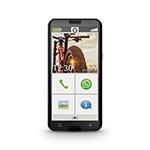 Emporia are a fantastic brand of phone best known for their crystal clear voice clarity and the easy to use phones. We've compiled a list of the Best Emporia Amplified Phones for Staying in Touch here, so you can make sure you're not missing out on the best they have to offer!