Best Personal Amplifiers 2023
26 July 2023 | Rosie
Personal amplifiers are designed for the hard of hearing to, simply put, amplify sound – whether that's from an audio device or from sounds around them. This might be useful for a number of reasons, such as enhancing sound in spaces that are typically loud, echoey, or even just to direct sound more directly into the ears. In today's blog, we'll take you through the Best Personal Amplifiers 2023 for use in a variety of ways, from watching TV, to one on one conversations, to use with a landline phone.
What's Covered In this Guide?
In today's blog we'll break down the best personal amplifiers, including:
Best Bluetooth Personal Amplifier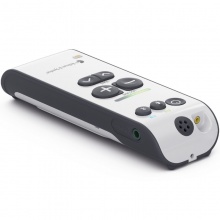 Bluetooth connectivity enhances the audio of your mobile phone calls
A digital algorithm reduces background noise while clarifying speech
Bellman Headphones included so that you can use the device instantly
Massive 70 hour battery life and only takes 3 hours to be fully charged
£210.29
+ FREE UK delivery
More Info
Available now
Why We Love It: Bluetooth personal amplifiers are a fantastic way of enhancing sound quality without tangled, easy-to-lose wiring. The Bellman Maxi Pro Bluetooth Amplifier enhances audio quality and eliminates background noise, for amplified volume and overall clarity, making it ideal for minimal to extreme hearing loss. Using an intelligent clever algorithm that recognises speech using a supplied set of headphones, this set's ultra-modern design is as sleek technologically as its appearance.
Not the Best For: With a range of functions from use with TVs to phones, to radios, this set needs a relatively large headset to operate. This makes it not the best for discreet hearing assistance, but worry not, we have a fantastic alternative in this blog for the best Portable Personal Amplifier.
Best Value Personal Amplifier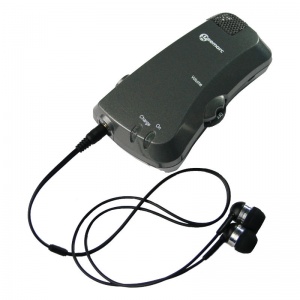 Hearing assistant with highly sensitive microphone
Perfect solution for the hard of hearing
Adjustable receiving volume control of up to 30dB
Built-in sensitive T-Coil for use with induction loops
£67.29
+ FREE UK delivery
More Info
Available now
Why We Love It: While the Geemarc LH10 Hearing Assistant might seem basic in design, this tiny device packs a punch! With a volume of up to 30dB and extended 10-hour operating time, this amplifier ticks all the boxes when it comes to audio assistance. Being wired, this set is by far the easiest to use amongst all the others in this list, making it perfect for penny pinchers and technophobes alike.
Not the Best For: Again, this isn't the prettiest, most customisable device available, making it less desirable for people with severe hearing loss. In addition, we wouldn't recommend this personal hearing device to those of you needing a TV and radio personal amplifier, since a wired design restricts the user's freedom of movement.
Best Portable Personal Amplifier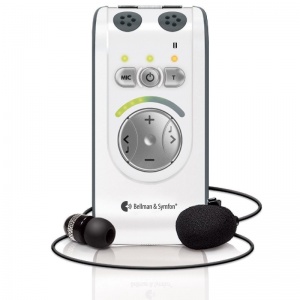 Personal amplifier uses an algorithm to help you hear speech clearly
Discreet design means the amplifier is easy to carry outside with you
Can be used with hearing aids, cochlear implants or regular earphones
Can also connect to hearing loop systems and audio devices e.g. TVs
£243.23
+ FREE UK delivery
More Info
Available now
Why We Love It: With complete tone adjustment, telecoil compatibility and TV and radio connectivity, the Bellman Audio Mini Personal Amplifier offers stress-free portability. We like to think of it as the elevated Geemarc LH10 - featuring the same handheld style and settings with significantly better adjustability. It even features a whopping 29 hour battery life, with the same crystal-clear audio algorithm technology as the Bellman Maxi Pro for the best of both products!
Not the Best For: This isn't a particularly affordable option, making it a better choice for those who have significant hearing loss, or more complex hearing assistant needs. For a more cost-efficient option, check out the Best Value Personal Amplifier.
Best Personal Amplifier for TVs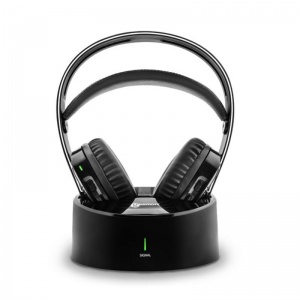 Personal TV amplifier for those with impaired hearing
Lightweight and comfortable design suitable for prolonged usage
One charge gives you up to eight hours of power
Headphones can reach up to 125dB in volume
£169.99
+ FREE UK delivery
More Info
Available now
Why We Love It: Hearing loss can make every day mundane activities like watching TV extremely difficult, if not impossible. However, the Geemarc CL7500 Wireless Amplifier combines ultra-soft headphones with wireless sound transmission for sound amplification, in addition to an easy-to-use charging mechanism designed for elderly patients. With delay-free listening and a volume maximum of 125dB for severe deafness, this set restores a sense of normality without annoying your neighbours!
Not the Best For: While suitable for use with phones, music players, and most other audio devices, this set isn't exactly discreet. Being a set of over-ear headphones, it's also not great for wear out and about in the hotter months. For a more subtle alternative, check out our Best Bluetooth Personal Amplifier and Best Value Personal Amplifier.
Best Value Amplifier for TVs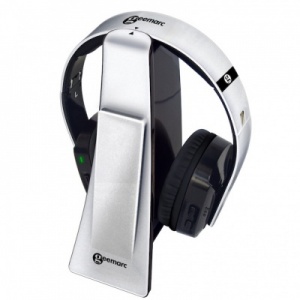 Wireless TV listener to provide you with amplified sound up to 125dB
Ideal for the hard of hearing or anyone who struggles to hear the TV
Provides eight hours of wireless listening on a single charge
Suitable for use with TVs and most other audio devices
£124.99
+ FREE UK delivery
More Info
Available now
Why We Love It: The earlier version of the Geemarc CL7500 Wireless Set, the Geemarc CL7400 OPTI Headset offers a more affordable solution to audio amplification. While the headband style of this headset isn't designed for various different head shapes (unlike the CL7500 Listener Headset), this option is perfect for people needing affordable TV amplification.
Not the Best For: Like the Geemarc CL7500 Wireless Set, this pack offers little to no discretion, and would seem out of place when worn in public spaces such as restaurants and cinemas. The charging device is also a little trickier to operate for people with compromised dexterity, since it requires exact, correct placement of the headphones on the charger for proper charging. Try the newest version of this design for our top selling Personal Amplifier for TVs.
Best Personal Amplifier or Phones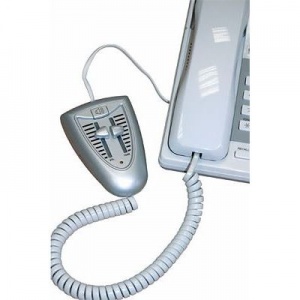 Stylish and discreet device

Volume and tone control

Boost button for maximum clarity

Comes with batteries included
£41.98
+ FREE UK delivery
More Info
Available now
Why We Love It: Personal amplifiers for phones can be tricky to operate, especially for the elderly, who are more likely to suffer from hearing problems. The Sarabec Phoneplus Handset Amplifier is an affordable, intuitive, easy to operate phone amplifier for landline phones. Ideal for use in care and residential facilities or just at home, this device boosts your handset's volume using a battery-operated design for complete ease of use.
Not the Best For: It goes without saying that this amplifier won't work outside, and it's also incompatible with mobiles. It also has limited customisation, making it less than perfect for people with more complex hearing assistant requirements. For a brilliant solution to this, keep reading or click here for our top selling Mobile Phone Amplifier.
Best Personal Amplifier for Mobiles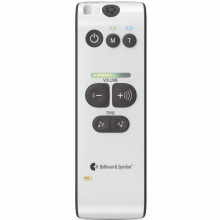 Uses a digital algorithm to enhance and clarify speech and human voices
The Maxi also works to reduce background noise and any interference
Suitable for use with headphones/earphones or can enhance hearing aids
Connects to telecoil so you can hear clearly in venues that provide this
£137.36
+ FREE UK delivery
More Info
Available now
Why We Love It: The best thing about this amplifier is its ridiculous 150 hour operating time. Benefits of the Bellman Maxi Personal Amplifier don't stop here though: it also features tone adjustment, telecoil (also known as t-coil) compatibility, and a clip-on or lanyard attachment, in addition to connectivity with most audio devices. Battery powered for a hassle-free installation, this amplifier offers sophisticated, fuss-free audio enhancement.
Not the Best For: This amplifier is on the pricier side if you exclusively use a landline. It's also a little intimidating to use and set up for people with limited technology knowledge, given its extensive range of setting options. For a more intuitive design for rapid installation, try the Best Value Phone Amplifier.
What Is a Personal Amplifier?
A personal amplifier is a compact electronic device designed to enhance and amplify sound for individuals who may have difficulty hearing or need assistance in certain listening situations. It is also commonly known as a "personal sound amplifier," "hearing amplifier," or "personal hearing device". They are often small, discreet, and can be worn on the body or placed near the sound source to amplify the sound for the user.
How Do Personal Amplifiers Work?
Personal amplifiers work by capturing sound through a microphone and then amplifying it to make it louder and more accessible to the user. Here's a basic overview of how they work:
Microphone: The personal amplifier has a microphone that picks up sounds from the surrounding environment.
Amplification: The sound signal is then processed through an amplifier circuit, which increases the amplitude (volume) of the sound signal, making it louder.
Volume control: Many personal amplifiers feature volume control settings that allow the user to adjust the level of amplification based on their comfort and the specific listening situation.
Output: The amplified sound is then sent to the user's ears through earphones or a built-in speaker.
Where Should I Wear a Personal Amplifier?
Personal amplifiers are more suitable for situations where someone may need a little extra help hearing in specific environments, such as:
In conversations with friends and family
Watching television
Attending lectures
Participating in meetings
Job interviews
And other spaces needing enhanced audio assistance!
Want More Options?
We have a huge range of accessories for hearing aid users, designed to make the world an easier place to navigate. For even more hearing loop options, why not check out our range of Portable Amplifiers?
Browse our variety of Geemarc products for help at home and out and about.
Do you have any questions, or something to add? Please let us know in the comments section below!