Best TV Listeners to Hear Your Favourite Programmes Again 2023
1 Comment
12 January 2023 |
Eugene
If you're hard of hearing, enjoying your favourite TV programmes can quickly turn into a struggle to catch exactly what's being said. Picking up the remote control and turning up the volume seems like an obvious solution, but what if you share your home with loved ones who prefer a lower volume? TV listeners and hearing assistants are a clever solution that keeps everyone in the room happy.
At AmplifiedTelephones.co.uk, our mission is to not only provide the best products for the hard of hearing we can, but also to make sure each customer gets exactly what they need. To make sure you decide on the right hearing solution, we've had our product experts go over our range to select the very Best TV Listeners available this year. We'll cover:
How Does a TV Listener Work?
Each TV listener is a bit different, but they all exist with the same purpose: to send amplified volume from the television directly to the user's ears or through a headset or connected hearing aid. This allows you to listen to your programme at a volume that suits your needs best, while those around you can still enjoy it at a normal volume. Read on for our top picks.
Our Best Wireless TV Listener for High-Quality Sound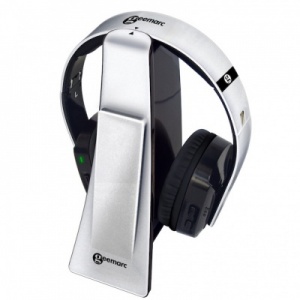 Wireless TV listener to provide you with amplified sound up to 125dB
Ideal for the hard of hearing or anyone who struggles to hear the TV
Provides eight hours of wireless listening on a single charge
Suitable for use with TVs and most other audio devices
£124.99
+ FREE UK delivery
More Info
Available now
Why We Love It: This is the best option for anyone looking to replace the audio quality of a high-end sound system, delivering some amazing amplified sound from your TV to your ears. The Geemarc CL7400 Wireless TV Listener Headset provides sound so good that you may just want to use it for all your listening needs, not just the TV. Exceptionally loud and clear, these wireless headphones block out background sound, and allow you to listen to TVs, Mp3 players, computers and just about any audio other source.
Looking for a classic TV listener design with optical audio connection ability? We recommend the Geemarc 7370 OPTI Amplified TV Listener with Optical Input.
Our Best All-Round TV Listener
Why We Love It: We're always trying to find a perfect balance between ease-of-use and quality sound for our customers, and the Amplicomms TV3500 Amplified Wireless TV Listening System is hands-down the best we've found. It can connect to any TV through all the standard cables, and also features a HD microphone built into the base, allowing it to pick up crisp sound and deliver it straight to the wireless headset without any wires or setup. It's lighter, more comfortable and louder than other headsets, so it's an easy choice as our top pick.
Looking for an Option That Connects Straight to Your Hearing Aid? Try the Sonumaxx 2.4 PR Headset System with Neckloop.
Our Best All-Purpose Hearing Assistant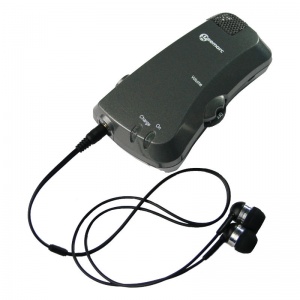 Hearing assistant with highly sensitive microphone
Perfect solution for the hard of hearing
Adjustable receiving volume control of up to 30dB
Built-in sensitive T-Coil for use with induction loops
£67.29
+ FREE UK delivery
More Info
Available now
Why We Love It: If you don't have or aren't in need of a hearing aid, a versatile assistive hearing device like the Geemarc LH10 Amplified Hearing Assistant can help you hear just about everything around the home or outdoors. It can be placed on your armrest or lap to help boost the sound of the TV or radio, or can be carried around while you're out and about to hear all the sounds around you in loud and clear 30dB volume. It can even be used in place of a hearing aid for connection with induction loops thanks to its sensitive built-in T-coil!
What's the Difference Between a TV Listener and a Hearing Assistant?
While standard TV listeners are designed to only amplify the volume of the television, a hearing assistant can be used to discreetly and efficiently turn up the volume of everything around you. These are an excellent, affordable alternative to traditional hearing aids, and can be used at home and when out and about.
Find the Right Device for Your Needs!
Whether you're looking to turn up the TV volume without disturbing those around you, or could use some help hearing all conversations in your household, at AmplifiedTelephones.co.uk we are determined to make your life easier. These options have been hand-selected by our product experts for volume, clarity and ease-of-use, and we're sure they can improve the lives of anyone who is hard of hearing and can sometimes struggles to hear the TV, or conversations with loved ones around them.
If you haven't found what you're looking for in this article, please feel free to browse our entire selection of TV Listeners, or some of our most popular categories:
Do you have a question, or something to add about your experiences with amplified mobile phones? Feel free to leave us a message in the comments section below!