Make Your Home Friendly for the Hard of Hearing
22 July 2019 | Admin
When you're hard of hearing, things others take for granted can present a daily struggle. We're here to help you turn your home into a haven where you will always feel safe and completely in control. If you're unsure if you need help with certain everyday activities, go over the following questions and try to answer as honestly as possible:
Can I easily hear my alarm clock in the morning?
Am I always confident I'll know when someone rings the doorbell?
Can I safely say I could hear my smoke alarm go off?
Do I ever turn up the TV to a volume those around me don't appreciate?
Have I ever missed an important call because I didn't hear the phone ring?
If you're nodding your head yes to one or more questions, it might be worth exploring our range of home products that can help you deal with some of these issues. Below, you can find our top picks for each of the most common problem areas: alarm clocks, doorbells, smoke and carbon monoxide detectors, visual ring indicators and TV listeners.

Wake-Up Alarms
If you often struggle to hear your morning alarm, an extra loud alarm clock can be the solution to your problem. Our alarm clocks range from classic amplified alarms to vibrating waking devices, allowing you to find the right one for your waking needs.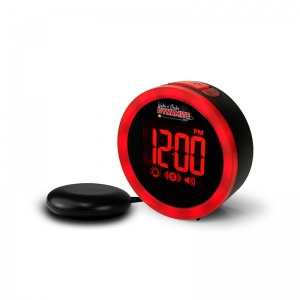 Flashing alarm clock with extra-loud alarm (95dB)
Perfect for heavy sleepers and the hard of hearing
Includes a vibrating pad to place under your pillow
Features a large red display with programmable lamp mode
£45.99
+ FREE UK delivery
More Info
Available now
Extra Loud Doorbells
Not being able to know when someone is at your door can cause unnecessary stress and confusion. Special doorbells for the hard of hearing are designed to make sure you will always be aware of what is happening outside your house.
Smoke Alarms
An alarm can save your life, but only if you're able to hear it. Our specialised smoke alarms for the hard of hearing have been designed with additional features that ensure peace of mind even for those who live alone.
Carbon Monoxide Detectors
The only way to stay truly safe from carbon monoxide is with a carbon monoxide detector. If you're not entirely sure you'd be able to hear a standard detector go off, one of our extra loud carbon monoxide detectors could be the right choice for you.
Visual Ring Indicators
When extra loud isn't enough for you to hear your doorbell, alarm, or telephone, a visual ring indicator might save the day. Our visual and vibrating ring indicators can help you stay on top of any situation.
TV Listeners
If you find it difficult to hear the radio or your favourite TV programme, there are other solutions than turning up the volume. A personal hearing assistant is a practical and discreet device that allows you to efficiently turn up the volume of your TV set or radio.
Stay Safe!
Staying in control of your environment is crucial for your well-being, and at AmplifiedTelephones.co.uk we're determined to help you create the home you want. If you need a bit more help with you product selection, you can get in touch with our Customer Care Team by phone at 020 7501 1101, or via email at helpdesk@amplifiedtelephones.co.uk