Best Amplified Mobile Phones 2022
Wednesday, 24 February 2021 | Eugene
Operating a mobile phone can seem a bit daunting at first. The tiny buttons, small screens, and wealth of unnecessary features can be a recipe for disaster for those unfamiliar with new technology. To make things even worse, most standard mobile phones are relatively quiet, so it's easy to miss bits of conversation – especially for the elderly and hard of hearing.
At AmplifiedTelephones.co.uk we are committed to solving the problems you're facing, which is why we've had our product experts put together a list of the very best accessible extra-loud mobile phones. All of our recommendations include a loud ringing and receiver volume, an easy-to-use interface, and hassle-free setup. We'll cover:
Our Loudest Mobile Phone
Extra-loud mobile phone designed for ease of use
Ideal for the hard of hearing looking for a simple phone
Adjustable receiver volume up to 40dB (8x a normal phone)
Includes SOS and safety functions for peace of mind
£69.99
+ FREE UK delivery
More Info
Available now
Why We Love It: Featuring most of the features you'd find in a highly accessible amplified home phone, the Geemarc CL8500 Amplified Clamshell Mobile Phone is much louder than a standard mobile, and is designed with big buttons and a red emergency call button on the back. Avoiding the pitfalls of a complex modern smartphone, this mobile simply works – and does it well.
Looking for a more capable amplified mobile with modern smartphone features? We recommend the Doro 8050 Smartphone for Seniors.
Our Best Classic Amplified Mobile Phone
Amplified big buttoned mobile phone
Tone control for frequency adjustment
Maximum receiving volume of 35dB (6x a normal phone)
Uses wireless 3G connectivity
£79.18
+ FREE UK delivery
More Info
Available now
Why We Love It: Designed for simplicity, the Amplicomms PowerTel M7510-3G Amplified Mobile Phone is loud and clear, using classic 3G connectivity and a familiar design to provide an easy and reliable call experience. Hearing aid compatible with extra-loud ringer and receiver, this phone is a solid choice for those looking to avoid frills.
Looking for an even simpler option? Try the Doro 6620 Amplified Flip Phone for Seniors.
Loudest Hands-Free Speakerphone Senior Smartphone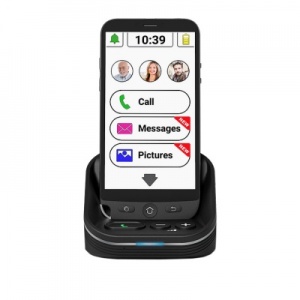 Loud and easy-to-use smartphone with simple controls
Ideal for elderly and hearing impaired users
Features an amplified base for loud hands-free calls
Hearing aid compatible for easy connection
£229.90
+ FREE UK delivery
More Info
Available now
Why We Love It: This phone is the latest and greatest in accessible phones for the elderly and hard of hearing, with a specially-designed interface that provides the simplest phone operation available. The Amplicomms M50 Amplified Senior Smartphone features an extra-loud hands-free base, allowing it to be used in place of a home phone with a simple button to answer calls without even picking up the phone.
Looking for a louder smartphone? Take a look at the Doro 8050 Amplified Senior Smartphone mentioned below.
Our Easiest-to-Use Mobile Phone
Why We Love It: With a large screen, big buttons and no flipping required, the Geemarc CL8360 Big Button Amplified Mobile Phone is an ideal option for elderly users who may not be familiar with using any sort of mobile phone. It comes with a convenient charging dock, allowing the user to always know where the phone is and make sure it's always charged up and ready to go.
Looking for a mobile with a charging dock that also functions as a speakerphone base? Try the Amplicomms M50 Amplified Senior Smartphone.
Our Most Stylish Clamshell Mobile Phone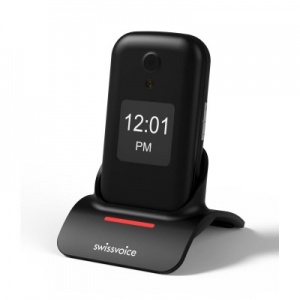 Easy-to-use mobile phone with two displays
Perfect for the elderly and the hard of hearing
Adjustable earpiece volume up to 35dB (6x a normal mobile)
Simplified menu with large, comfortable keys
£69.99
+ FREE UK delivery
More Info
Available now
Why We Love It: The Swissvoice D28 Amplified Dual-Display Clamshell Mobile Phone is one of our newest accessible clamshell phones, and the intuitive design is impressive. This mobile is impressively designed to be as easy to use as possible, and features the industry-leading Swissvoice SOS and assisted setup system.
Looking for a similar clamshell phone with even louder volume? We recommend the Geemarc CL8500 Amplified Mobile Phone.
Our Loudest Smartphone Mobile Phone
Smartphone with loud volumes designed for ease-of-use
Ideal for the elderly or those unfamiliar with smartphones
Features an extra-loud earpiece volume of 35dB (6x louder than standard phone)
Built-in assistance button alerts top contacts and sends your location
£249.99
+ FREE UK delivery
More Info
Available now
Why We Love It: An innovation in making smartphone features accessible to the hard of hearing, elderly and anyone unfamiliar with modern mobile use, the Doro 8050 Amplified Smartphone for Seniors features an extra-loud earpiece volume of 35dB (over 6x louder than a standard smartphone). This amplified mobile organises all of its features on a simplified home screen to allow everything to be accessed with one touch, avoiding the complex operating systems that make modern phones so tricky to use.
Why Choose an Amplified Mobile Phone?
There's no denying that a mobile phone is the best way to stay connected with your loved ones wherever you are. The only possible downside is that standard mobile phones can be sometimes a bit tricky to master, and even a bit too quiet. This is why our amplified mobile phones are:
Easy to Use: These mobiles feature a much simpler user interface with big buttons, making them a breeze to use.
Loud Enough to Hear: These phones have a receiver volume of at least 30dB, more than 4x louder than a standard mobile.
Prepared for Emergencies: Our amplified mobiles feature SOS buttons to alert your top contacts in emergencies.
Stay Connected Wherever You Are
A mobile phone can help you stay in touch with your loved ones wherever you are, both for your peace of mind and theirs. If you find a standard mobile telephone just a tad too quiet, or a bit tricky to use, one of our easy-to-use amplified mobile phones could be just what you need to improve your everyday communication.
If you haven't found what you're looking for in this article, please feel free to browse some of our most popular categories:
Do you have a question, or something to add about your experiences with amplified mobile phones? Feel free to leave us a message in the comments section below!