Why We Recommend Geemarc
11 March 2021 | Eugene
Our most important aim at AmplifiedTelephones.co.uk is to connect the hearing impaired to their friends and family in the easiest, most comfortable way possible. This isn't a task we take lightly, and we take pride in the strict standards that we hold our manufacturers to, and this starts with making sure every telephone and hearing assistant we receive is optimised to provide the easiest and clearest conversation experience possible. Over the years, there's no company who has passed this test as consistently as Geemarc.
"Geemarc anticipate the needs of the user in the design process, which makes them so much easier to recommend since we know setup and use will be as smooth as possible for our customers. They're the loudest and clearest, so they're great for the hard of hearing". – Eugene, our amplified phone expert
Why Do We Trust Geemarc?
Geemarc are a pioneer of loud phones designed for accessibility in the UK, and year after year they bring us some of the most innovative solutions for the hard of hearing that we've seen. They were founded here in the UK in 1974, and since then have concentrated on providing telephones and accessories that maximise volume and clarity while minimising feedback, helping the hard of hearing to stay in touch with the important people in their lives without hassle. We're not the only ones who trust Geemarc either, as we've taken our lead from the audiologists and hearing specialists who recommend these products with confidence.
What Sets Geemarc Apart?
There are cheaper options out there, but what really separates Geemarc from the crowd is the attention to detail their design team pays to the day-to-day needs of the end user. As many of their products are designed for the hard of hearing and special needs market, they don't stop at loud and clear sound. A lot of the real innovation that Geemarc provide to our market comes in the form of improving user experiences, as they make products that can be used by virtually anyone without confusion or complexity.
Adding flashing light indicators, SOS buttons and seamless answering machines to their phones, Geemarc have made it easy for us to recommend their products to those of all needs. This is great for us, as a lot of our customers aren't after tech-savvy gadgets, and instead want something that's easy to hear, easy to set up, and just works when it needs to.
Who Do We Recommend Geemarc To?
While we would recommend a Geemarc product to just about anyone, they're particularly suited to a certain type of customer. We know you'll love Geemarc if you're:
Hard of Hearing: Simply put, they make the loudest phone and loudest mobile we're aware of, and don't compromise on clarity either
Tired of Fiddly Tech: If you love products that are set up in seconds as much as we do, Geemarc is for you
Visually Impaired: Flashing call indicators and large, high-contrast buttons and screens make Geemarc telephones ideal for visual impairment
Worried About Loved Ones: Many of their phones feature SOS buttons that allow instant notification of carers, contacts or services in the event of an emergency
Our Seal of Approval
When we're recommending a product, we don't just want it to work for the customer, we want it to solve a problem and make their lives easier. Geemarc make it easy for us to recommend their products, as they've put in the thought during their design process to anticipate the needs of the hard of hearing and visually impaired and remove all sorts of hurdles to communication. Their phones and listening aids make it possible for those with poor hearing to make missing words in a conversation a thing of the past, and instead make their conversations with friends and families as smooth, comfortable and enjoyable as can be. Years of customer feedback about Geemarc phones have taken all guesswork out of our recommendations.
Some of Our Current Favourites from Geemarc...
Easy-to-use amplified telephone with adjustable volume
Suitable for individuals with severe hearing loss
Adjustable receiver volume up to 60dB (32x a normal phone)
Large black buttons with high contrast numbers enable easy dialling
£78.02
+ FREE UK delivery
More Info
Available now
Exceptionally loud receiver and ringing volume
SOS button stores up to four emergency numbers
Adjustable receiver volume up to 50dB (16x a normal phone)
Hearing aid compatible for versatile use
£81.99
+ FREE UK delivery
More Info
Available now
Corded and cordless phones for increased usability
Answering machine with up to 15 minutes of recording time
Adjustable receiver volume up to 30dB (4x a normal phone)
Hearing aid compatible
£83.99
+ FREE UK delivery
More Info
Available now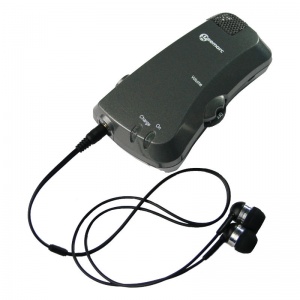 Hearing assistant with highly sensitive microphone
Perfect solution for the hard of hearing
Adjustable receiving volume control of up to 30dB
Built-in sensitive T-Coil for use with induction loops
£67.29
+ FREE UK delivery
More Info
Available now
Do you have a question, or any experience with Geemarc products? Let us know in the comments section below!