The 4 Best Phones for Seniors
27 June 2016 | Admin
As we get older, our senses and functions may begin to deteriorate. Whether this is in regard to your eyesight, hearing, memory, dexterity or a combination of these, everyday tasks – such as using the telephone – can become more difficult. You may, for instance, struggle to hear the ringing of your telephone, or to remember contact numbers. This can be frustrating for you and worrying for loved ones and carers who need to stay in contact with you.
Finding using the phone tricky may seem like a relatively small problem in the great scheme of things, but picture an emergency situation – what if an elderly relative had a fall, and was unable to alert someone?
Luckily, at Amplified Telephones we stock a wide range of devices designed with senior citizens in mind, making the phone more accessible for the elderly. Read on to find out more about some of the best phones we have to offer and see if you can benefit.
Geemarc Amplipower 50 Amplified Telephone for the Hearing Impaired
All of the telephones available from our online store are amplified (the clue is in our name!) and developed with the hard of hearing in mind. Hearing loss is a very common symptom of old age – in fact, as many as 70% of over 70-year-olds suffer from this, with age-related damage to the cochlea being the single biggest cause of hearing loss in the UK.
Do you find you often have to turn up the TV volume, or strain to hear in group conversations? You may be suffering from age-related hearing loss and could benefit from an amplified telephone, such as the Geemarc Amplipower 50.
This is a really popular choice among amplified telephones due to the fact that it's one of the loudest in the world. With a massive receiver volume of 60dB, 6 to 7 times louder than a standard phone, as well as an extra loud amplified ringer volume, this corded device is perfect for those in need of a big volume boost. Callers will come through loud and clear!
If you suffer from minor hearing loss and are after something a little less powerful, our amplified phones have a varying range of receiver and ringer volumes, so you can choose the dB you require. These phones are also often hearing aid compatible, so the hard of hearing can truly get the most out of their device.
Doro 312cs PhoneEasy Big Button Corded Telephone for the Less Dexterous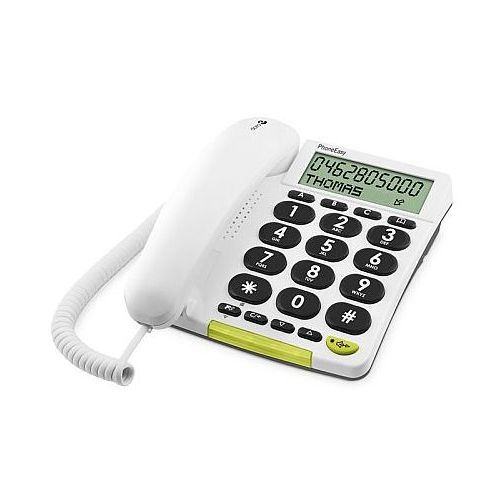 Finally, loss of motor function is also often experienced by the elderly. Perhaps you have suffered a stroke, have Parkinson's or simply aren't as dexterous as you once were. This can make using the small, fiddly buttons common of a standard telephone a real challenge, if not impossible.
Amplified Telephones stock a wide range of big button phones designed to help with this. The Doro 312cs PhoneEasy is a great example, an amplified, hearing aid compatible phone with a large, LCD display. In addition, this corded telephone has big button concave keys, one touch memory buttons and an easy-to-grip handset. This makes the unit perfect for the less-nimble fingered, so your reduced motor function doesn't have to hold you back from keeping in contact with the outside world.
Amplified Telephones stock a wide range of useful products for seniors - visit our online store today!