The Best Hard of Hearing Mobile Phones
12 July 2016 | John
For the hard of hearing, using a mobile phone can be a daunting prospect. Even though a mobile can help you stay connected with family and friends, they're no good at it if you can't hear what's being said!
Here at Amplified Telephones we have a wide range of mobile phones designed for the hearing impaired to choose from. In fact, it can be difficult to find the best hard of hearing mobile phone for you from our selection.
To help make your purchasing choice easier, we've selected our top five mobile phones for the hard of hearing.
What Makes a Hard of Hearing Mobile Phone?
The key characteristic of a hard of hearing mobile phone is an amplified receiver. This means that the call volume is much louder than that of a standard mobile, helping you hear exactly what's being said on the other end of the line.
Another great feature common with hard of hearing mobiles is tone control. Fantastic for individuals with high or low frequency hearing loss, this enables you to adjust the tone of the phone's sound to best match your hearing needs.
Geemarc CL8500 Amplified Clamshell Mobile Phone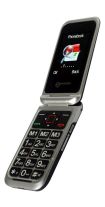 If you're someone who suffers from vision impairment alongside hearing difficulties, it's important that your mobile phone can help you with more than just sound.
The Geemarc CL8500 Amplified Clamshell Mobile Phone utilises a big button keypad alongside its hearing features to be as helpful to as many people as possible. This keypad also includes a speaking function built-in, providing you with clear audio feedback as to which button you've pressed.
The dual displays on the outside and inside of the phone means you can see missed calls and the time without having to open the phone up, and both displays feature large, clear text for easy readability.
But it wouldn't be a mobile phone for the hard of hearing without sound help, and the CL8500 delivers on that too. An incredibly loud 40dB receiver – 4-5 times louder than a standard mobile – gives more audible call sound, and M4/T4 hearing aid compatibility ensures hearing aid users can get great sound.
If you're still looking for the best hard of hearing mobile phone for your needs, head on over to Amplified Telephones and take a look at our range of Hard of Hearing Mobile Phones.