The Best Phone for the Elderly
Tuesday, 12 July 2016
The telephone is a vital lifeline to the elderly – it enables them to keep in contact with their loved ones and quickly get help in case of an emergency. However, as we get older our hearing, eyesight and motor functions can fail us, making conventional phones more difficult to use.
It can get harder to dial numbers and hear people over the phone, which can lead many elderly individuals to feel isolated and alone from the outside world. Because of this, it's important that you can find the best phone for either yourself or an elderly relative to help them stay in touch.
Doro Magna 4000 Hard of Hearing Corded Telephone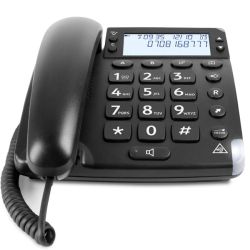 A fantastic phone for the elderly, the Doro Magna 4000 Hard of Hearing Corded Telephone has a range of features designed to provide everything the elderly need to stay connected; all in an attractive and stylish design!
To account for hearing loss, the Magna 4000 has an incredibly loud 60dB receiver volume, making voices on the other end louder and clearer. Tone control adds to the clarity by enabling you to adjust the sound's frequency to compensate for high or low frequency hearing loss, meaning that the phone adjusts to your needs.
And to help with reduced eyesight and motor function, the phone has a big button keypad, that makes keys easier to see and easier to press, reducing the chance of misdialling. It also features a large character display to make it easier to see which numbers you've dialled.
BT Big Button 200 Big Button Telephone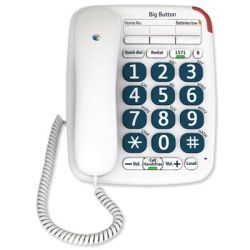 The big feature of the BT Big Button 200 Big Button Telephone is its incredibly big buttons. If you or a loved one have significant sight or motor control loss, the increased size of these keys make numbers much easier to hit.
Accompanying this is 14dB amplification – ideal if you don't need a phone which is that much louder than a standard one but require a slight boost to the sound. It's also fully hearing aid compatible; great if you use a hearing aid and want to utilise it with your phone.
For maximum comfort it also has an incredibly easy to grip handset, making longer phone calls more comfortable.
Geemarc PhotoPhone 100 Amplified Picture Telephone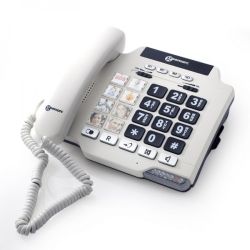 Another consideration for the elderly is memory. Unfortunately, memory loss and dementia is an all too real issue for elderly individuals, so it's important to take it into consideration when choosing a phone for older relatives.
The Geemarc PhotoPhone 100 Amplified Picture Telephone provides a novel way to overcome this issue. It features six memory buttons which you can place pictures into. This enables elderly relatives who can't remember phone numbers to simply press the person they want to dial, helping them keep in touch with you and other friends and relatives.
This phone also utilises a 30dB receiver volume – 3 to 4 times louder than a standard telephone – which helps you or elderly relatives overcome hearing issues.
Doro PhoneEasy 100w Cordless Amplified Telephone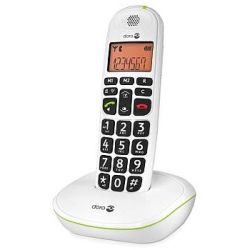 If you're looking for a cordless solution, the Doro PhoneEasy 100w Cordless Amplified Telephone provides a fantastic all-round option. The cordless design makes the phone much easier to use, eliminating the hassle and limits cords can cause.
A big button keypad on the receiver itself means that the phone easier to dial, and the rounded shape makes the phone much easier to grip.
On the audio front, an already loud 30dB receiver can be boosted by an additional 10dB to provide you with even louder and clearer sound. For additional clarity the phone is hearing aid compatible, giving you a wide range of sound clarity options.
Humantechnik FreeTEL Eco Amplified Cordless Telephone
Another cordless solution, the Humantechnik FreeTEL Eco Amplified Cordless Telephone provides a discreet design while still delivering everything a mobile phone for the elderly requires.
A loud 30dB receiver helps to make conversations louder, and the phone even includes bass and treble adjustment so you can personalise the phone to your exact needs. Hearing aid connectivity rounds out the sound audibility for maximum audio clarity.
The large, soft keys are incredibly comfortable and easy to press, and the large markings make it easier for you to see exactly which number you're pressing.
If you're still looking for the best phone for the elderly, head on over to Amplified Telephones and check out our full range of Elderly and Hard of Hearing Phones.