Best Beurer Hearing Amplifiers
14 February 2022 | Admin
Noticed that your hearing isn't what it used to be? More than 1.5 billion people worldwide (nearly 20% of the population) live with impaired hearing. As well as being a nuisance, hearing loss can affect your mental health, career, relationships, and general wellbeing.
But there's no need to settle for a reduced level of hearing. Ideal for anyone with mild to moderate hearing difficulties, hearing amplifiers can improve daily living and make you feel more like you again.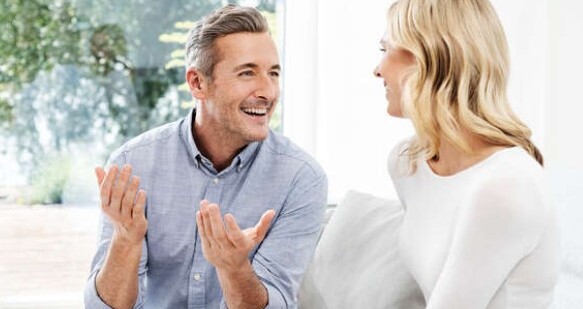 This handy guide will help you discover the Best Beurer Hearing Amplifiers, providing all the information you need to find your perfect match. We'll be covering all things Beurer, including the following :
How Do Hearing Amplifiers Work?
Beurer hearing amplifiers are handy and discreet, designed to amplify the volume of indoor and outdoor sounds. The products in this range feature two different hearing programmes, suited to loud and quiet environments.
You can set the audio output volume depending on where you are located or how advanced your hearing loss is. Turn it up when you're in a public place to make sure you don't miss a thing, or enjoy peace and quiet when watching TV at home.
Hearing Aids vs. Hearing Amplifiers
Hearing amplifiers should not be used in place of hearing aids, which are more suitable for individuals with bad to severe hearing loss. Nonetheless, amplifiers can still be extremely beneficial for those with mild to moderate problems. For example, if you struggle to hear a conversation or the television at a normal volume, an amplifier can be used to boost the sound and enable more comfortable listening.
Which Frequency Is Best for Me?
During a conversation, the frequency of a typical adult male ranges from 80Hz to 180Hz, whilst a woman's ranges from 165Hz to 255Hz. One of the key ingredients to a great amplifier is a broad frequency range to enable higher-quality sounds. Luckily, the Beurer hearing amplifiers provide the perfect solution. If you're looking for a wide frequency range, check out the Beurer HA85 Hearing Amplifiers.
Best Invisible Hearing Amplifier
Key Features:
Extra-small design for discreet look
Ergonomic fit behind the ear for comfort
Integrated power bank for charging on the go
Why We Love It: The Extra-Small HA70 Amplifiers are perfect for users with limited hearing, amplifying the volume of all sounds both indoors and outdoors. As these devices are barely visible, they're especially suited to those who fancy a more discreet listening aid.
Best Rechargeable Hearing Amplifier
Key Features:
Integrated charging station with USB charger for use on the go
Versatile design suits both indoor and outdoor environments
Also available as a single product, suitable for either ear
Why We Love It: The HA80 amplifiers are ideal for anyone with mild hearing difficulties. Completely versatile, these medical aids are designed to amplify sounds both indoors and outdoors, in loud or quiet environments. They are also easy to charge, ready whenever and wherever you are.
Best Hearing Amplifier for Seniors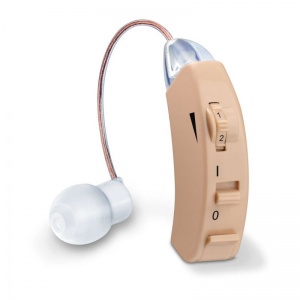 Hearing aid to amplify indoor and outdoor sounds
Ideal for anyone with restricted hearing ability
Features a continuously adjustable volume
Frequency range: 100 - 6000Hz
£31.49
+ FREE UK delivery
More Info
Available now
Key Features:
Easy-to-adjust volume to suit your needs
Low-noise rendering for clearer sound
Very discreet and barely noticeable look
Why We Love It: The HA50 Hearing Amplifier is ideal for elderly individuals, due to its classic look and easy-to-use design. Using the clearly-numbered dial, you can adjust the audio output depending on the severity of your hearing loss or where you are located.
Best Hearing Amplifier on a Budget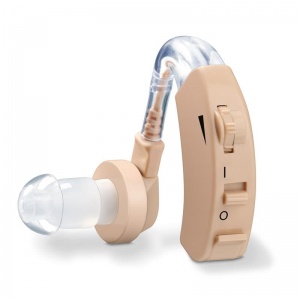 Hearing aid to amplify indoor and outdoor sounds
Ideal for anyone with restricted hearing ability
Features a continuously adjustable volume
Frequency range: 200 - 5000Hz
£21.94
+ FREE UK delivery
More Info
Available now
Key Features:
Affordable price for high-quality amplification
Petite design for discreet wear
Continuously adjustable volume to suit your location
Why We Love It: Exceptionally petite and elegantly shaped, the Beurer HA20 Hearing Amplifier remains virtually invisible when positioned behind the ear. This product is a cheaper alternative with the similarly great effects.
How Do I Dry My Hearing Amplifiers?
Wearing a hearing amplifier behind your ear means it comes in contact with sweat and moisture, which will need to be dried. A drying capsule is supplied with the following products:
To use this handy accessory, simply place it with slight pressure inside the storage box. To ensure the best drying performance, close the lid of the storage box while drying. The capsule has a colour indicator, which changes from bright orange to white over time. When the capsule turns white, this means it has reached its drying capacity and needs to be replaced.
How Do I Keep My Amplifiers Clean?
It's vital to keep your hearing amplifiers clean, making sure the earplug and microphone don't get blocked with earwax or moisture, as blockages can impair sound amplification. Luckily, the Beurer hearing amplifiers can simply be wiped clean with a dry cloth after use. You should never use abrasive, corrosive or solvent-based cleaning products on these devices.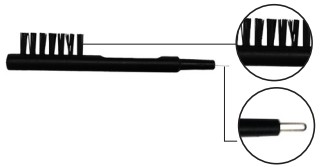 All amplifiers except the HA50 and HA20 are also supplied with a cleaning brush, as shown in the image above. The brush end is ideal for cleaning the hearing devices, whilst the loop removes wax from the earplug.
Why Choose Beurer?
If you're not convinced, here are just a couple more reasons why we love Beurer. There's no denying that hearing amplifiers can take a bit of getting used to. That's why the Beurer listening aids are:
Very discreet: Though the in-ear aids are most discreet, all Beurer hearing amplifiers are compact and supplied in muted colours, making each of them barely visible.
Low-noise rendering: The rendering of the Beurer amplifiers is low-noise. This ensures all amplified sounds are extremely clear.
Adjustable to your ear canal: The HA hearing amplifiers are supplied with multiple ear plugs to ensure a comfortable and secure fit.
Easy to use: Each Beurer device can be used with relatively no fuss, allowing simple adjustments to suit your hearing ability and location.
Hear Life Better
Hearing amplifiers provide an ideal solution for anyone with mild to moderate hearing problems, enabling sounds to be heard without the fuss of a chunky and confusing hearing aid. These Beurer gadgets are perfect for easing anyone into regular hearing assistance. It's a noisy world, so don't miss out!
If you haven't found what you're looking for in this article, feel free to browse some of our most popular categories:
Got a question about the Beurer range, or hearing amplifiers in general? Let us know in the comments below!