Best Loud Alarm Clocks 2023
5 September 2023 | Sharman
Getting up in the mornings can be tough for anyone – especially for the hard of hearing and deep sleepers. On top of being incredibly loud, the alarm clocks in this guide have extra features like vibration, bright lights and shakers for your bed and pillow.
So whether you're deaf, partially deaf or simply not a morning person, our Best Loud Alarm Clocks 2023 could help!
What Kind of Extra Loud Alarm Clock Do You Need?
Best Loud Vibrating Alarm Clocks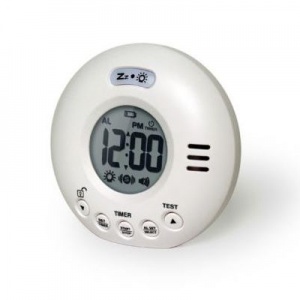 Extra loud travel alarm with bright light and vibration
Compact design for easy transportation
Maximum volume of 75dB at 1 metre
Battery-operated for greater convenience
£29.90
+ FREE UK delivery
More Info
Available now
Why It's Great: One of our best-selling amplified alarm clocks, the Geemarc Wake N Shake Voyager Extra Loud is loved by our customers. On top of being super loud, with an adjustable volume up to 75dB, it vibrates with two intensity settings and has a built-in strobe light. These can all be used together or individually for a customised alarm experience. Depending on your style or home decor, it's also available in black.
Our Customer's Verdict: "My mum has no hearing at all in one ear and hearing loss in the other and other alarm clocks just won't wake her. This has been fantastic - a loud alarm and vibration ensures she wakes up. Great service and product . Thank you" - Emma ★★★★★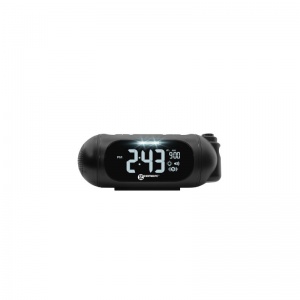 Extra-loud alarm clock with flash and vibration
Great for heavy sleepers and the hard of hearing
Spotlight projects time onto wall or ceiling
Alarm and snooze settings can be customised
£49.99
+ FREE UK delivery
More Info
Available now
Why It's Great: With a vibrator, flash and incredibly loud 95dB ringer, all of which can be used at the same time, the Geemarc Wake'n'Shake Alarm Clock is sure to get you up and going. The alarm also goes off for up to an hour, so there's no ignoring it! Additionally, it features a unique spotlight projection feature to display the time (along with the standard screen display).
Best Loud Alarm Clocks with Bed Shakers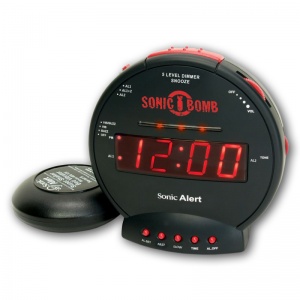 Extra-loud volume ideal for the hard of hearing
Vibration pad for under pillow provides physical prompt
Alert lights and red display for easy viewing and visual aid
Adjustable functions for optimum use
£49.99
+ FREE UK delivery
More Info
Available now
Why It's Great: You've probably guessed this from the name, but the Sonic Bomb Alarm Clock with Shaker is seriously loud. The alarm can go as loud as a massive 113 decibels and features flashing alert lights to really get your attention. The vibration pad can be placed under your pillow or somewhere else near you to shake you awake, which is really useful for deaf people who wouldn't hear the alarm.
Our Customer's Verdict: "This alarm clock is fabulous. Easy to use, with a great selection of tonnes and volume levels. The vibration pod is a super addition too. I was dubious when ordering, especially as this was to be my third alarm clock purchased (the other two were just not up to the Job, different brands) But I was pleasantly surprised. Great purchase." - Zoe ★★★★★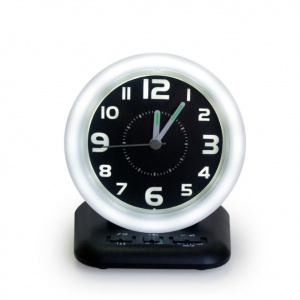 Loud alarm clock with vibration and flashing light features
Perfect for the hard of hearing and heavy sleepers
Adjustable volume, vibration level and alarm tone frequency
Simple, easy to use features with an analogue clock face
£59.99
+ FREE UK delivery
More Info
Available now
Why It's Great: If you're looking for an extra-loud alarm clock with a more classic look, the Geemarc Wake'n'Shake Vintage Loud Alarm Clock is a great option. Although it looks like a standard analogue clock, it's a powerful and extra-loud alarm clock designed for the deaf and extremely deep sleepers. It's really customisable with three alarm frequency settings to best suit the hearing impairment of each individual user and two intensity settings on the vibration pad. As an added benefit, it features a USB slot for you to charge your phone.
Our Customer's Verdict: "Perfect choice for hearing impaired - Simple to use and most certainly can hear when the alarm goes off. I have spent a lot of money on various alarm clocks that are not suitable. Mt daughter recommended trying a company that specialises in hearing impaired equipment and bingo!" - Emlyn ★★★★★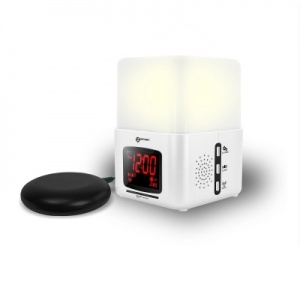 Alarm clock with lamp light and vibrating pad
Ideal for the hard of hearing and deaf individuals
Simulates a sunrise effect for more natural waking
Includes ambient sounds for peaceful rest
£83.99
+ FREE UK delivery
More Info
Available now
Why It's Great: The Geemarc Wake 'n' Shake Light Vibrating Alarm Clock with Lamp offers a gentler, but still really effective wake up. The LED lamp is designed to simulate sunrise as the shaker pad nudges you awake. The loud alarm can emit a standard ringing or really uniquely, it can wake you up with ambient noises with settings like 'frog', 'rain', 'wind', 'bird', and 'sea'. On top of this, it's also a loud alarm FM radio if you prefer to wake up to the sound of the radio.
Best Loud Travel Alarm Clocks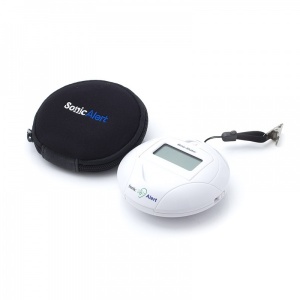 A powerful vibrating travel alarm clock
Extra loud 70dB alarm
Compact size for easy portability
Ideal for heavy sleepers and hard of hearing
£34.90
+ FREE UK delivery
More Info
Available now
Why It's Great: Battery-powered, super-compact and supplied with a handy travel case, the Sonic Bomb Vibrating Travel Alarm Clock is perfect for taking on your travels! The ringer is really loud - going up to 70dB - and can be used with just sound or with vibration. The flip-up setting display is also easy to read and use, great for older users. Whether you're going on holiday or you're travelling for work, you'll never miss a flight again!
Our Customer's Verdict: "I love everything about this cute little alarm clock. I didn't want a big clock for the bedroom showing a light all night. This fits the bill for waking me every day and to take on holiday. It acts as an all-in-one clock and alarm, slip it inside or under the pillow. The buttons are protected from accidentally switching off when under the pillow as the front can close flat for night use. 'Icing on the cake' is a lovely little cloth case for travelling or storage. Or just stand it up in the bedside table." - Paula ★★★★★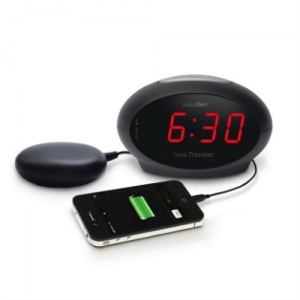 Extra-loud alarm adjustable up to 75dB
Large, brightly lit display easier to see
Shaker pad vibrates for physical prompt
USB port at rear for charging devices
£38.63
+ FREE UK delivery
More Info
Available now
Why It's Great: The Sonic Traveller Extra-Loud Alarm Clock is another fantastic option for travelling. On top the really loud volume (adjustable up to 75dB), it includes a vibration pad which you can place under your pillow, great for those who need to be physically shaken to wake up. It's also USB powered as opposed to battery powered, so there's no danger of running out of power.
Wakey Wakey!
Not even sleeping beauty could sleep through the alarms we've highlighted in this guide, and we hope you've found the clock for you. If nothing's got a rise out of you yet, why not have a look at our full range of extra-loud alarm clocks.
Do you have any questions, or something to add? Please let us know in the comments section below!